Women's Live Cultures with Fibre Benefits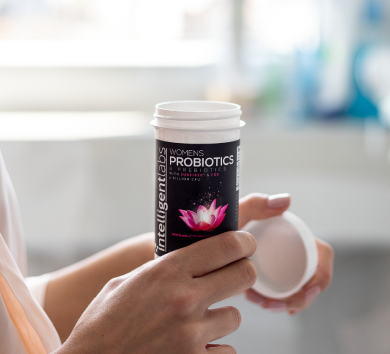 Vaginal and Urinary Tract Health*
Live cultures taken orally help to repair or maintain a healthy bacterial balance in the vagina. The D-Mannose and Crantiva™ Cranberry juice powder help remove bacteria, yeasts and other microorganisms from the urinary tract that can lead to infections.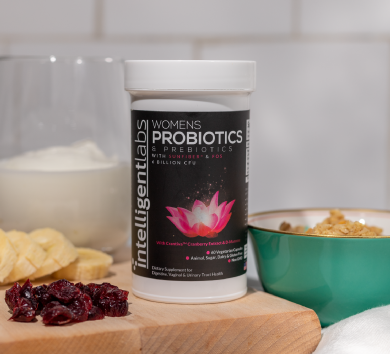 Gastrointestinal and Immune Health*
Live cultures are helpful for diarrhoea and can help reduce the symptoms of various bowel conditions, such as Irritable Bowel Syndrome (IBS), Crohn's, and Celiac disease. These beneficial bacteria can also boost the body's immune function and fight off pathogens.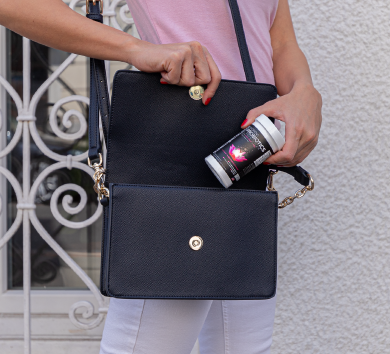 The gut microbiome has a connection with the skin and can influence a range of skin conditions. 'Good' bacteria can also affect weight loss efforts by reducing food cravings. 'Bad' bacteria more completely digest food, which means more calories are absorbed.

Patented Live Culture Strains
Our live cultures are chosen for their stability and unique health-giving properties. All are sourced through DuPont® Danisco.

Patented Delivery System
We use Activ-Polymer® bottles and Oxyfree desiccant to ensure capsules stay moisture free and oxygen levels at 0.01%.

Quality Control
This dietary supplement is manufactured at an NSF GMP-certified facility in the United States.

Money Back Guarantee
Love It or 100% Money Back Guarantee. If you don't love our product, simply return it for a full refund.
Why Should I Take Women's Live Cultures?
Be strong, healthy and happy with our Women's Live Cultures with Fibre supplement. This product is specifically designed to support optimal digestive, vaginal, and urinary tract health.
We use a proprietary blend of 4 patented, acid and bile-resistant live culture strains, Crantiva™ Cranberry juice powder, D-Mannose, and the fibres FOS and Sunfiber®. Together, these powerful ingredients offer a wide range of health benefits, including repairing and maintaining a healthy gut and vaginal microbiome.*
Taking one capsule a day can help maintain a healthy bacterial balance in the vagina. More 'good' bacteria in the vagina reduces your risk of vaginal infections, such as bacterial vaginosis, vaginal thrush, and even sexually transmitted infections.*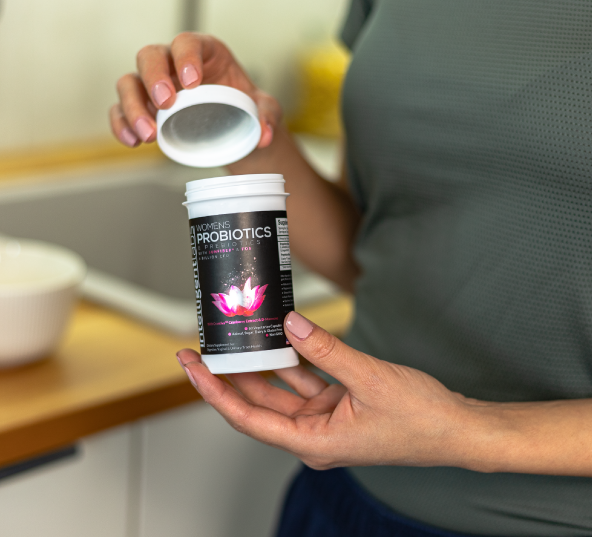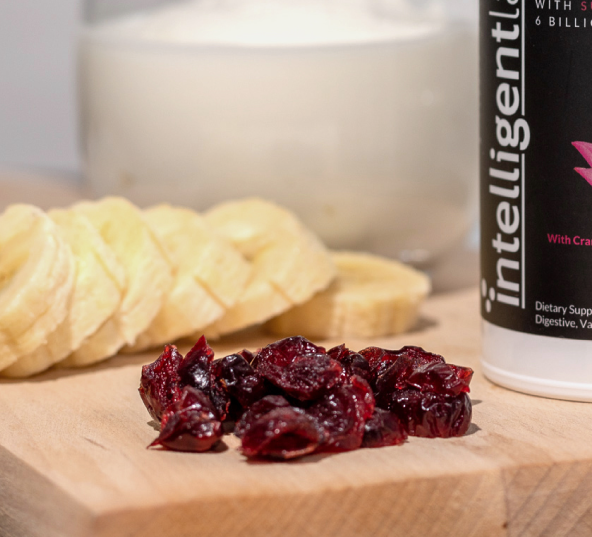 Crantiva™ Cranberry Juice Powder and D-Mannose
In scientific studies, Cranberry and D-mannose have been shown to be more effective than antibiotics in preventing UTI's. These natural ingredients help balance hormones, remove bacteria, fungi, and other microorganisms from the urinary tract.*
Synbiotic Effect of Fibre
We use non-digestible fibres that act as food for the live cultures. Our live cultures are manufactured in a freeze-dried state. However, even the slightest exposure to light, heat, moisture, or air can wake them up. When they wake, they will need a food source, else they will die. It's therefore vital to choose a brand that includes fibre in their capsules.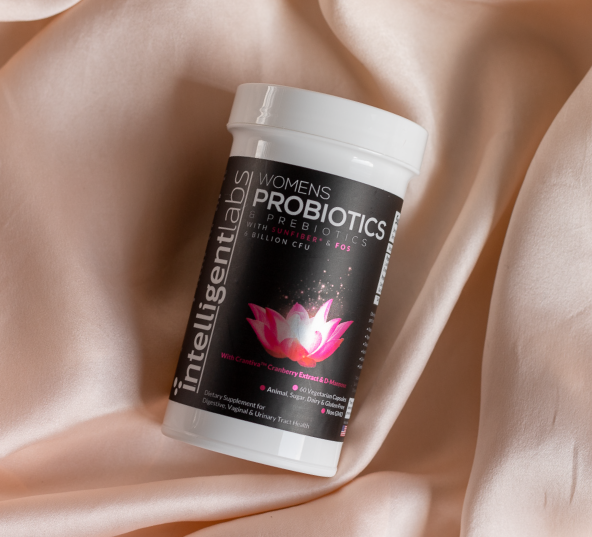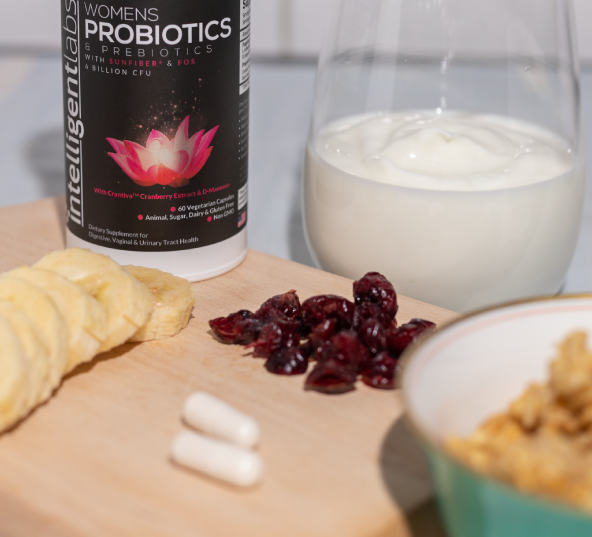 Delayed Release Veggie Capsules
We use a delayed release capsule to ensure our live culture pills are safely delivered to the intestines and do not get degraded in stomach acid during digestion. This means the live cultures aren't released until they reach the gut where they need to be to do their work!
Active Packaging Technology
We use a uniquely engineered Activ-Polymer™ bottle to control the exposure of our live cultures to moisture and water. It features an impenetrable desiccant sleeve wrapped around the live cultures so they remain moisture-free. An Oxyfree® desiccant absorbs any oxygen and removes any residual moisture from inside the bottle, meaning we can reduce oxygen levels to 0.01% for the entire lifespan of the product.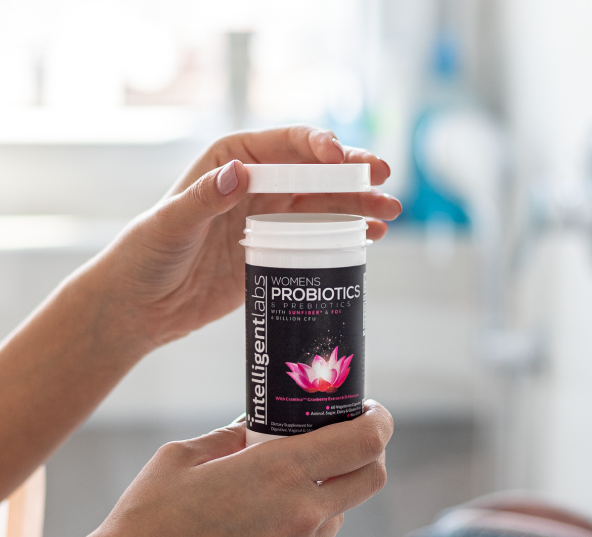 At Intelligent Labs, we use high-quality ingredients to make the best live culture supplement on the market! We don't use fillers, artificial flavours, additives or preservatives on any of our health products.
Our Women's Live Cultures with Fibre is manufactured at an NSF GMP-certified facility in the United States. Our third-party testing certificates are also available for all our customers to see.












NO CHEMICAL PRESERVATIVES
Serving size: 1 Capsule
Servings per Container: 60
Ingredients: Proprietary Blend of L. acidophilus La-14®, B. lactis Bl-04®, B. bifidum Bb-06®, B. longum Bl-05® (6 Billion CFU per serving*) Proprietary Blend of Crantiva™ Cranberry Juice Powder, Sunfiber® (Partially Hydrolyzed Guar Gum), Fructooligosaccharides (FOS), and D-Mannose
Other ingredients: Delayed-release Capsules (Hypromellose & gellan gum), Stearic Acid & Silicon Dioxide
CAUTION: Consult your physician if you are taking medications, or have any medical condition.
Keep out of reach of children. Do not use if seal is damaged or missing. Please do not eat the enclosed packet. Store in a cool and dry place. Avoid excessive heat. Tighten cap when not in use.
FREQUENTLY ASKED
QUESTIONS
Some live culture supplements are cheap, whilst others are expensive. How do I know which supplement offers the best value for money?
The key is looking at the strength or Colony Forming Units (CFU). It's also important to understand how many of those CFU's will still be alive in the capsule by the time you take it. We over-manufacture our live cultures and use Active Packaging Technology and fibre to ensure the strength that is on the bottle is the strength you get in your gut.
Many other manufacturers will offer live cultures that will be significantly less powerful by the time you take them than when they are manufactured.
Will I experience gas, bloating, or diarrhoea?
It's quite a common side effect to get gas, bloating or diarrhoea in the first few days after you start taking live cultures. However, it's nothing to worry about and usually passes in a few days. It happens because your gut bacteria is rebalancing itself.
Live culture bacteria are active against yeast, harmful bacteria and fungi. When you take live cultures, harmful microorganisms will start to die, and this can cause gas, bloating and diarrhoea. It's a sign that beneficial bacteria are getting to work to clean up your gut.
What's the recommended dosage?
As a dietary supplement, take 1 capsule per day, preferably in the morning before a meal or as directed by a healthcare professional.
I am on antibiotics, should I take live cultures?
Yes, you can take live cultures with antibiotics, studies seem to suggest it's favourable to do so. However, we recommend taking your live cultures and antibiotics at least 2 hours apart to reduce the possibility of the antibiotic killing the beneficial organisms.
When is the best time to take live cultures?
We generally recommend taking it with a meal, ideally breakfast in the morning.
Is there sugar or fat in the product?
No, there is no sugar or fat in our Women's Live Cultures with Fibre supplement.
Are these soil-based live cultures?
No, we use human strain cultures sourced from DuPont® Danisco. Human strains are strains that are permanently reproducing in our guts.
Do you need to put these in the fridge?
We use heat resistant live cultures strains and active packaging technology, so there's no need to refrigerate. Just store the bottle in a cool, dry place. We guarantee a 2-year shelf life at room temperature
Want to know something else?
Shoot us a message at support@intelligentlabs.org or via our contact page and we'll get right back to you.

These statements have not been evaluated by the Food and Drug Administration. This product is not intended to diagnose, treat, cure, or prevent any disease