Meriva Curcumin Phytosome 250mg Benefits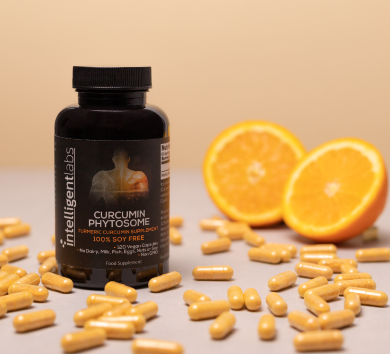 Anti-inflammatory Effect*
Curcumin Phytosome decreases inflammation levels by up to 1600% (as measured by reduction in c-reactive protein levels) [2]. Chronic low level inflammation increases the risk of diseases like cancer, diabetes, and heart disease.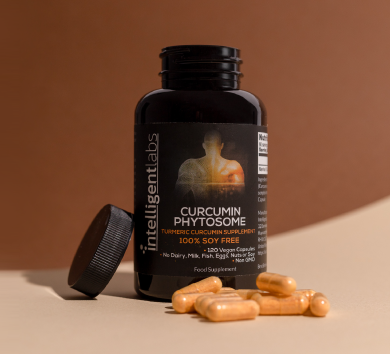 Curcumin is a powerful antioxidant as it stimulates our antioxidant enzyme production to neutralize and significantly reduce free radicals.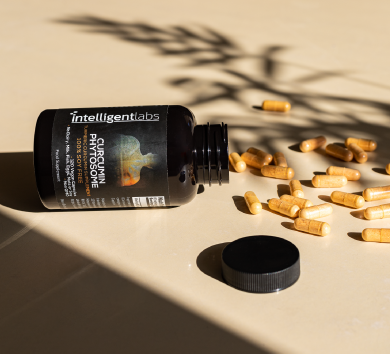 Curcumin can cross the blood brain barrier and increase levels of BDNF directly (brain growth hormone). It has even been shown to be as effective for treating depression as Prozac.

The Best Curcumin Supplement.
Supported by 18 clinical trials for 10 different health conditions showing its effectiveness and complete safety.

29x Better Absorption
We use the patented Meriva Curcumin Phytosome delivery system to increase absorption by 2900%!

Quality Control
Manufactured at an FDA and GMP-registered facility in the United States.

Money Back Guarantee
If you don't love our Meriva Curcumin Phytosome 250mg, simply return it for a full refund.
Why Should I Take Meriva Curcumin Phytosome?
Curcumin is turmeric's most potent component, used in Asia for its healing powers. However, it's poorly absorbed in the body.
Meriva Curcumin Phytosome is the most absorbable form that exists on the market. The patented delivery system increases curcumin absorption rates by up to 2900%!
Improved curcumin bioavailability means you can now enjoy all of its amazing health benefits, including reduced exercise-related pain, stiffness, and improved physical function.*
Here's what 100 osteoarthritis patients experienced after taking 1,000mg of Meriva daily for 8 months [3]:
63% reduction in painkiller use
59% reduction in pain and stiffness
67% reduction in digestive problems
346% improvement in their maximum walking distance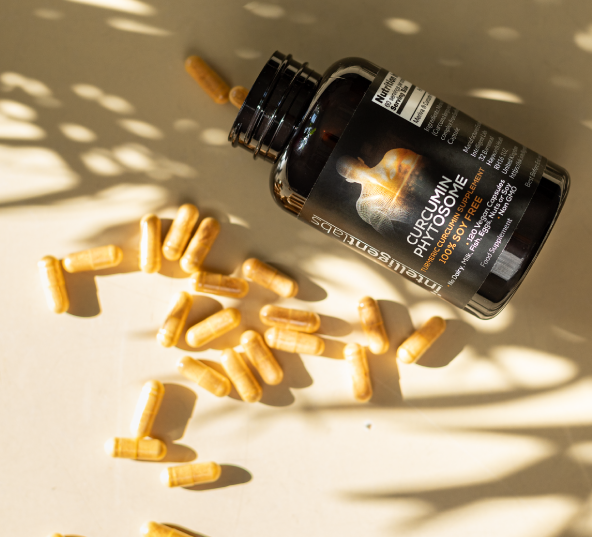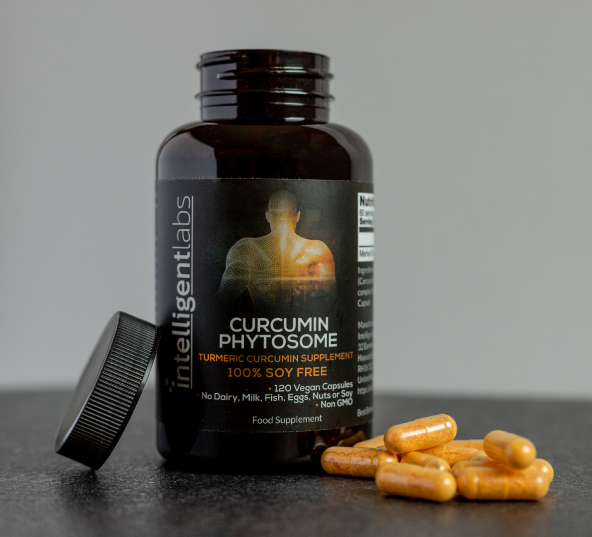 Curcumin Phytosome
Meriva's patented Curcumin Phytosome is a total game changer. It's a natural, food-grade, nano-delivery system developed by Indena. It's key to making our curcumin up to 29x better absorbed than ordinary curcumin.
Curcuma longa Extract
Curcumin is extracted from Curcuma longa, a.k.a. turmeric, a popular, all-around herbal solution used in traditional Ayurvedic and Chinese medicine for centuries. It's also a culinary spice added to many Asian dishes.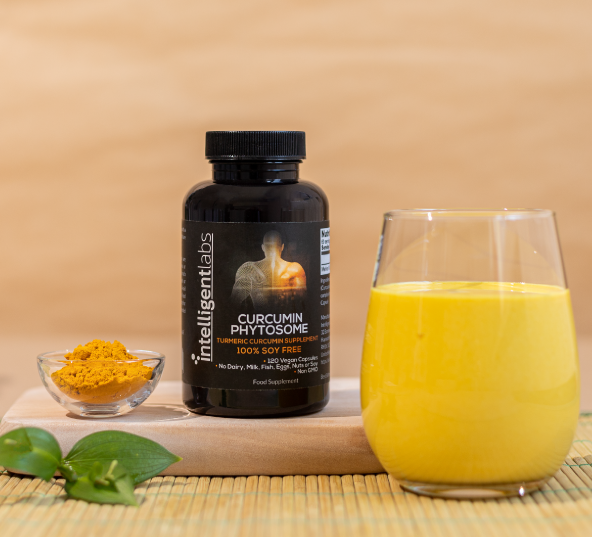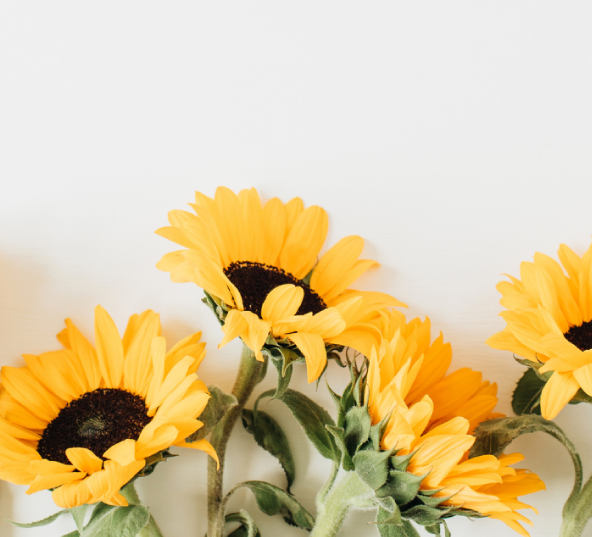 Phosphatidylcholine Complex from Sunflower
Our phytosome Phosphatidylcholine (PC) is extracted from sunflower to ensure it's soy-free (other Meriva supplements contain soy). PC is a natural part of our cell membranes, which greatly helps with bioavailability.
At Intelligent Labs, we use high-quality ingredients to make the best curcumin supplement in the market! We don't use fillers, artificial flavours, additives or preservatives on any of our health products.
Meriva Curcumin Phytosome is manufactured at an FDA-registered and GMP-certified facility in the United States.












NO CHEMICAL PRESERVATIVES
Serving size: 2 Capsules
Servings per Container: 60
Ingredients: Meriva® Curcumin Phytosome (Curcuma longa extract / Phosphatidylcholine complex from Sunflower)
Other ingredients: Methylcellulose Capsule
CAUTION: Consult your physician if you are taking medications, or have any medical condition.
Keep out of reach of children. Do not use if seal is damaged or missing. Please do not eat the enclosed packet. Store in a cool and dry place. Avoid excessive heat. Tighten cap when not in use.
FREQUENTLY ASKED
QUESTIONS
Should I take Meriva Curcumin Phytosome with or without food?
Ideally, you should take it with food. The curcumin in Meriva is combined with lecithin which is primarily made up of a molecule called Phosphatidylcholine (a phospholipid). Phospholipids are best absorbed when taken with food. Food stimulates the release of pancreatic enzymes and bile which more completely emulsifies the Phosphatidylcholine, allowing for much better absorption.
How long does it take to work?
You should start to feel the benefits of Meriva within 4-6 weeks (and possibly much quicker). However, long term studies of Meriva have shown that people can continue to see improvements in symptoms for 6 months or longer.
How much Meriva should I take?
We recommend taking 1 – 2 grams of Meriva a day (2 – 4, 500mg capsules). We suggest starting with 2 capsules a day, and then potentially moving up to 4 depending on whether you see the improvements you are looking for or not. This is based on the specific dosages used successfully in scientific studies.
For example, one major study found large reductions of inflammation levels in the body (up to 16x), and significant improvements in the symptoms of Osteoarthritis with a 1g (2 capsules a day) dose of Meriva.
In another study, participants suffering from peripheral nerve pain found reductions in their pain levels at a dose of 2g (4 capsules a day). A further study in trained athletes found reduced post exercise pain and improved recovery times also at a dose of 2g a day.
Is it safe to take long term and is it OK for a low oxalate diet?
Meriva has been shown to be safe for long term use in scientific studies. Also, unlike ordinary turmeric, Meriva is very low in oxalates, and completely fine for a low oxalate diet. Each capsule only contains 0.0025mg of oxalate, with a low oxalate diet ideally being less than 50mg of oxalate a day.
What is the curcuminoids percentage for this product?
Meriva is standardized to 20% curcuminoids, so each capsule has 50mg of curcuminoids.
Do I need to consult with my doctor before taking this supplement?
Yes, please do speak with your doctor before taking any kind of supplement.
Want to know something else?
References:
[1] Cuomo, John et al. "Comparative absorption of a standardized curcuminoid mixture and its lecithin formulation." Journal of natural products vol. 74,4 (2011): 664-9. doi:10.1021/np1007262
[2] Belcaro, G et al. "Product-evaluation registry of Meriva®, a curcumin-phosphatidylcholine complex, for the complementary management of osteoarthritis." Panminerva medica vol. 52,2 Suppl 1 (2010): 55-62.
[3] Belcaro, Gianni et al. "Efficacy and safety of Meriva®, a curcumin-phosphatidylcholine complex, during extended administration in osteoarthritis patients." Alternative medicine review : a journal of clinical therapeutic vol. 15,4 (2010): 337-44.

These statements have not been evaluated by the Food and Drug Administration. This product is not intended to diagnose, treat, cure, or prevent any disease