1 MG 5 MTHF L-Methylfolate Benefits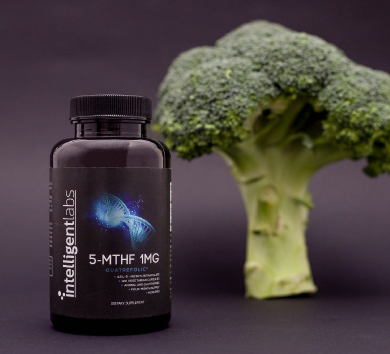 Required for essential body functions*
Folate or Vitamin B9 is required in many bodily functions, including converting carbohydrates into energy, making DNA and RNA, producing red and white blood cells, making important neurotransmitters, and supporting the nervous system.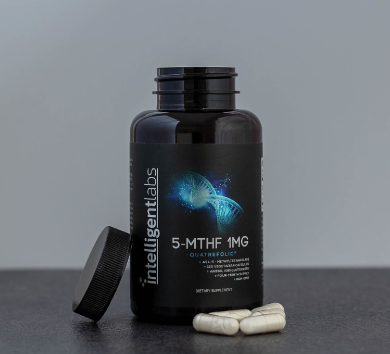 Reduces tiredness and fatigue*
One glaring symptom of folate deficiency is chronic fatigue. With our max absorption 1mg 5MTHF supplement, you can overcome tiredness and fatigue, so you have the energy to do the things you love!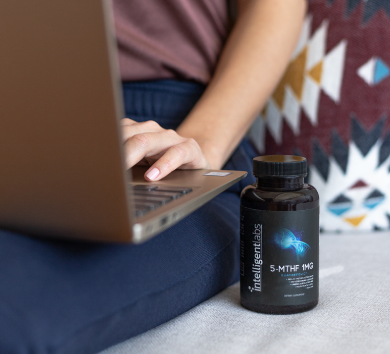 Keeps homocysteine levels normal*
High homocysteine levels are associated with an increased risk of cognitive decline, coronary heart disease, blood clots, stroke, and other diseases. 5-MTHF is bioactive and requires no chemical reactions in the body, so you get to reap all the amazing benefits!

Max Absorption Quatrefolic Acid®
Scientifically advanced 5-MTHF made from non-shellfish Glucosamine salt, making it more stable and better absorbed than other forms of folic acid.

Best Value 5-MTHF
Each bottle of our 1mg 5MTHF contains 120 capsules, which will last you a good 4 months! Excellent value for your money!

Quality Control
This dietary supplement is manufactured at an NSF GMP-certified facility in the United States.

Money Back Guarantee
Love It or 100% Money Back Guarantee. If you don't love our product, simply return it for a full refund.
Why Should I Take 5-MTHF?
Up to 60% of the population may have a genetic defect known as Single Nucleotide Polymorphism (SNP). Not sure if you have this condition? Get a DNA test! Under certain circumstances, affected individuals can't efficiently produce an active form of folic acid that can be used in the body.
Our 1 MG 5 MTHF L-Methylfolate supplement can help produce methyl groups which:
Form neurotransmitters like dopamine, noradrenaline, serotonin, and acetyl-l-choline*
Manufacture T-cells, a specialist sub-group of immune cells that fight off infections*
Convert the inflammatory chemical homocysteine back into its safe relative – methionine*
Form and repair DNA and epigenetic control DNA by 'switching it' on and off*
Deactivate histamine*
Methylate steroid hormones like estrogen (which can have implications for estrogen-responsive cancers)*
Detoxify toxins in the liver*
Help nourish specific parts of cell mitochondria to maintain optimal energy production*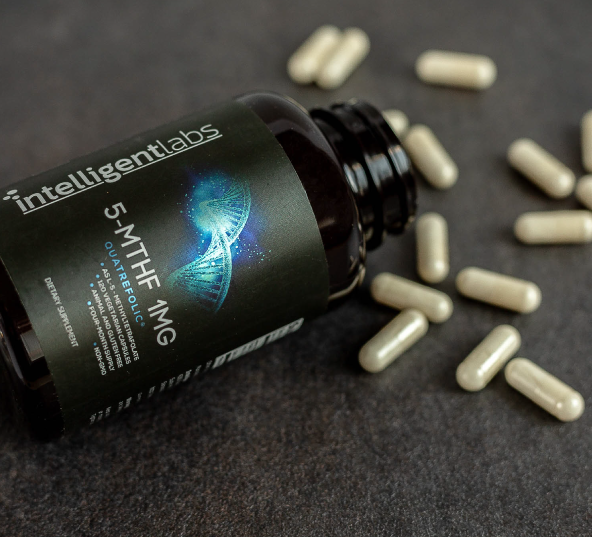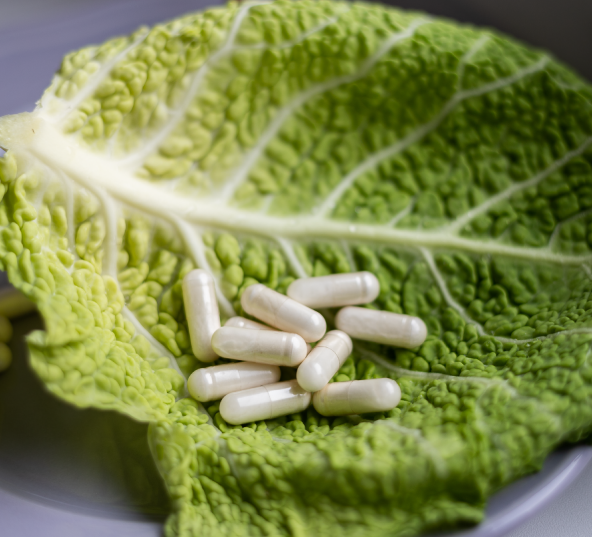 5-MTHF and Pregnancy
For those who don't metabolize folic acid well, supplementing with our 1 MG 5 MTHF may be beneficial during pregnancy. This is especially true if you have a homozygous C677T or A1298C mutation, which increases folate requirements even more.
Activated folic acid is highly protective against neural tube defects in a developing fetus. Several large observational studies have also found a link between MTHFR mutations and an increased risk of miscarriage.*
At Intelligent Labs, we use high-quality ingredients to make the best activated folic acid in the market! We don't use fillers, artificial flavours, additives or preservatives on any of our health products. Our Intelligent Labs 1 MG 5 MTHF L-Methylfolate supplement is manufactured at an NSF GMP-certified facility in the United States. Our third-party testing certificates are also available for all our customers to see.












NO CHEMICAL PRESERVATIVES
Serving size: 1 Capsule
Servings per Container: 120
Servings Per Container: 120
Ingredients: Folic Acid [(6S)-5-Methyltetrahydrofolic Acid, Glucosamine Salt (Quatrefolic®)]
Other ingredients: Cellulose Capsule
CAUTION: Consult your physician if you are taking medications, or have any medical condition.
Keep out of reach of children. Do not use if seal is damaged or missing. Please do not eat the enclosed packet. Store in a cool and dry place. Avoid excessive heat. Tighten cap when not in use.
FREQUENTLY ASKED
QUESTIONS
What happens when you take 5 MTHF?
Generally, when a person first starts taking methylfolate there are 3 different types of responses.
They are:
1) A person takes 5 MTHF, feels amazing, and wonders why they did not know about this stuff before! 
2) A person takes 5 MTHF, feels amazing, and wonders why they did not know about this stuff before! However, after a week or so they start to feel less amazing, and then find they might want to just hide in bed for a day, or start wanting to throw things across rooms, or suffer joint and muscle pain or headaches. Then the following week go back to feeling amazing again.
3) A person takes 5 MTHF and gets hit with a lot of the methylfolate side effects straight away, without getting any of the good stuff.
Whilst we hope you'll be in the first category, it's obviously not possible to guarantee this.
If you experience either of 2 or 3 please speak to your doctor. Usually these side effects are caused by the body producing too many methyl groups (known as SAMe). Therefore you may need to reduce your dose, or not take your dose as often. Some days your body just might not need as much. This may happen more often the longer you take 5 MTHF, as your body adjusts and naturally switches back on its own folate and methylation pathways.
How much 5 MTHF should I take?
This should be agreed with your doctor. This bottle includes doses of 5-MTHF which are 1mg in size. Usually your doctor will suggest starting with a small dose, then increasing it over time whilst being monitored.
What are the potential side effects?
A list of side effects can include: Insomnia, irritability, acne, palpitations, sore muscles, achy joints, rash, severe anxiety, nausea, headaches, and migraines.
What should I do if I experience side effects?
Speak to your doctor please. You may need to reduce your dose or the number of days in which you take it.
How do you know you have a folate deficiency?
Self diagnosis of folate deficiency is tough as some symptoms overlap with other B vitamin deficiencies. You may need to speak with your doctor so he/she can do some tests. But to give you an idea, here are some signs of a folate deficiency: Anemia, chronic sluggishness, fatigue, premature hair graying, short temper and irritability, shortness of breath, sores or ulcers in mouth, and your baby has birth defects and you're the mom or dad.
How should I store my 5 MTHF supplement?
We use opaque black bottles to keep all light out, but to be safe, keep your bottle in a cool, dark spot. When exposed to heat or light, this nutrient is quickly broken down and made inactive.
Anything else you'd like to know about our 1 MG 5 MTHF L-Methylfolate?
We love hearing from our customers. Please do contact us at support@intelligentlabs.org or via our contact page and we'll get right back to you.

These statements have not been evaluated by the Food and Drug Administration. This product is not intended to diagnose, treat, cure, or prevent any disease